Content outline of marine grade aluminum plate, quickly reach the specified content paragraph
What is marine grade aluminium?
Marine-grade aluminum is an alloy in which magnesium and silicon have been added to the aluminum alloy to make it more corrosion-resistant and suitable for use in water or wet environments.
Seawater contains salt and various other minerals, which are highly corrosive to metal products and cause greater damage to the hull. Marine aluminum is chemically active, but it can form a dense and passive oxide film with oxygen, so its corrosion resistance is much better than that of steel, thereby increasing the service life of the ship.
Ships made of aluminum alloys are 15-20% lighter than steel or other synthetic materials. Marine aluminum can reduce the weight of the ship, reduce the fuel consumption, increase the speed, improve the aspect ratio of the ship, and increase its stability.
What type of aluminum is used in boats?
The marine environment is a harsh environment, and the anti-corrosion requirements for the aluminum alloy in this working environment are higher. For ships, different parts are located in different corrosive environments.
The bottom of the ship is mainly affected by the infiltration and erosion of natural seawater and the adhesion of aquatic organisms, and the parts above the waterline are mainly affected by the corrosion of salt spray and atmospheric aging.
Ship side, outboard bottom plate: 5083 aluminum plate, 5086 aluminum plate, 5456 aluminum plate and 5052 aluminum plate are optional. The excellent corrosion resistance of marine aluminum plate can better resist the erosion of seawater and prolong the service life of the ship.
The roof and side panels of ships and shipping containers: 3003 aluminum plate, 3004 aluminum plate and 5052 aluminum plate can be used. 3003 aluminum plate has good anti-rust effect and can withstand the damage caused by long-term wind and rain.
Cab: 5083 aluminum plate, 6N01 aluminum plate and 5052 aluminum plate are optional. The non-magnetic plate of the aluminum plate keeps the compass unaffected, ensuring the correct orientation of the ship while sailing.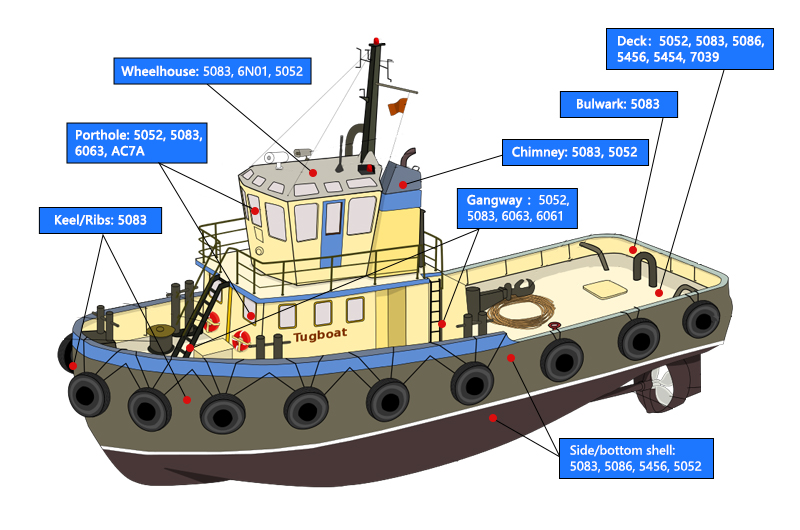 Specific applications of marine grade aluminum alloys
Side/bottom shell: 5083, 5086, 5456, 5052
Keel: 5083
Ribs: 5083
Ribs/Partitions: 5083,6061
Engine pedestal: 5083
Deck: 5052, 5083, 5086, 5456, 5454, 7039
Wheelhouse: 5083, 6N01, 5052
Bulwark: 5083
Chimney: 5083, 5052
Top and side panels of marine vessel containers: 3003, 3004, 5052
Portholes: 5052, 5083, 6063, AC7A
Gangway: 5052, 5083, 6063, 6061
Mast: 5052, 5083, 6063, 6061
Structural materials for marine vessels: 6063. ,6061,7003
Product Type: Plates, Profiles, Tubes, Rods, Forgings
Marine grade aluminum sheet specification selection
The thickness of the plate used is determined by the hull structure, ship specifications and use position, etc. From the perspective of light weight of the hull, generally sheet are used as much as possible, but the depth of plate corrosion during the use time should also be considered.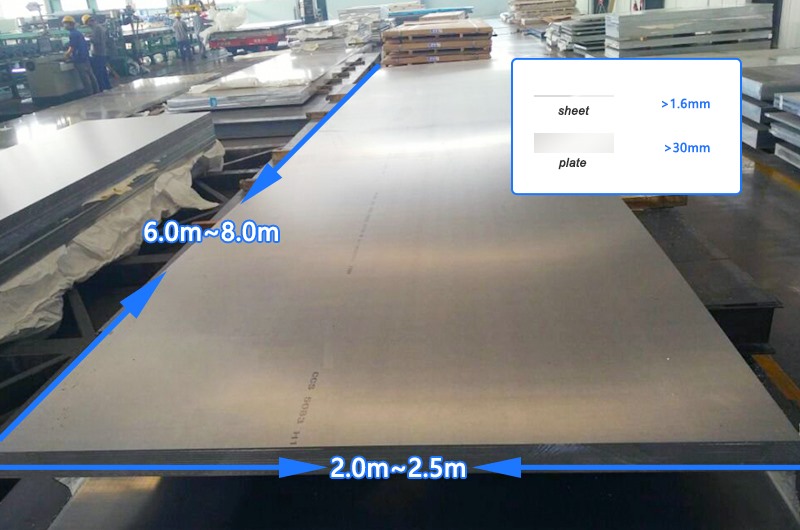 Marine Aluminum Sheet Specifications
1. Thickness: The commonly used plates are thin plates above 1.6mm and thick plates above 30mm.
2. Width: In order to reduce welding, 2.0m wide aluminum plates are often used, and 2.5m wide aluminum plates are used for large ships.
3. Length: generally 6m.
4. It can be customized, and some special specifications of plates can be produced according to the contract of the shipyard.
Common marine grade aluminum alloy characteristics
There are also several types and uses of marine aluminum plates. Different marine application scenarios are different. Classic marine aluminum plate alloys: 5052, 5454, 5086, 5083, 5456, 5754, 5383, 6082, 6061, etc.
5052 marine aluminum plate
5052 marine aluminum plate has both the advantages of the 3 series anti-rust aluminum material and the excellent forming processability of the 5 series, with moderate strength, especially fatigue resistance, high plasticity and corrosion resistance, no heat treatment strengthening, and good corrosion resistance.
Common alloy states: O, H14, H34
Application: Mainly used in hull superstructure, auxiliary components, small boat hull.
Features: medium strength, good corrosion resistance and formability, high fatigue strength.
5083 marine aluminum plate
The main alloying element in 5083 marine aluminum plate alloy is magnesium, which has good corrosion resistance and weldability, as well as medium strength, good corrosion resistance and machinability.
Commonly used alloy state: O, H32
Application: 5083 alloy is suitable for hull structure material. For example, yachts, inland patrol boats, etc.
Features: 5083 aluminum plate has excellent thermal conductivity and higher strength than 5052. It is highly resistant to seawater and industrial chemicals, making it ideal for welding.
Note that 5083 grade aluminum is not suitable for working above 65 degrees Celsius, 5083 is the strongest non-heat treatable aluminum alloy and retains its strength even after welding.
5086 marine aluminum plate
5086 marine aluminum sheet has high toughness, corrosion resistance and weldability, which provides the possibility for strict ship type production. At the same time, the ship board can resist the corrosion of the atmosphere, steam, water and other media in the marine climate for a longer time, and is durable and more economical.
Common alloy states: H32, H34
Application: Main structure of hull (thin-walled and wide extruded profiles), ship side, bottom outer plate.
Features: Weldability and corrosion resistance are the same as 5083, this alloy has high electrical conductivity and excellent corrosion resistance. 5086 can be strengthened by strain hardening and cold working until it is stronger than 5083.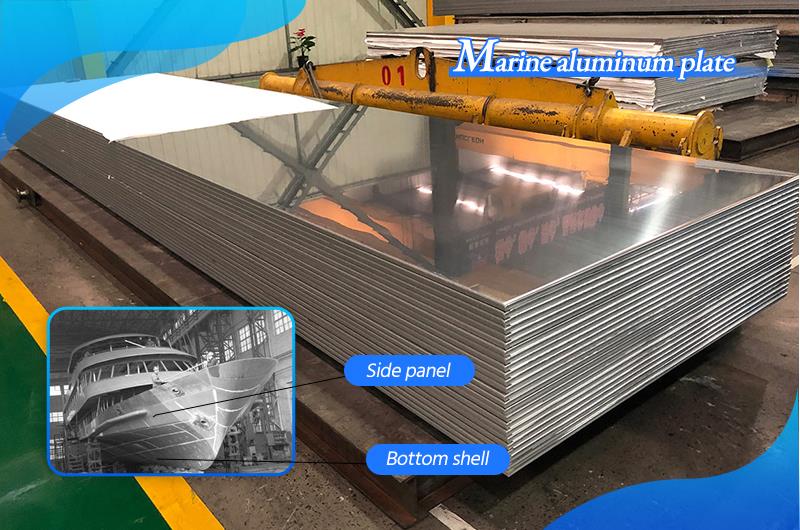 Real photo of marine aluminum plate
5454 Marine aluminum plate
The main alloying element of 5454 marine aluminum plate is magnesium. 5454 alloy aluminum plate is a typical anti-rust aluminum, which can adapt to harsh corrosive environments and has high strength.
Common alloy state: O, H32, H34
Application: Mainly used in ship structural parts, internal pressure vessels and pipelines, etc., often used in speedboats, fishing boats, large cargo ships, etc.
Features: The strength is 22% higher than that of 5052, the corrosion resistance and weldability are good, and the formability is average.
6061 Marine Aluminum Alloy
6061 marine aluminum alloy has excellent processing performance, good corrosion resistance, high toughness and no deformation after processing.
Common alloy states: T4, T6
Application: used for superstructure, partition structure, frame, etc., mainly used for screwing and riveting structures that are not in contact with seawater.
Features: Heat-treated corrosion-resistant alloy with high strength, but low welding seam strength.
The common states of marine grade 1050 aluminum alloy are H112, O, H12, H24. 1050 aluminum alloy has low strength, good workability, weldability and corrosion resistance, and high surface treatment. It is mainly used for interior decoration.
The common state of marine grade 3003 aluminum alloy is that the strength of H112, O, H123003 aluminum alloy is 10% higher than 1100, with good formability, weldability, and corrosion resistance. It is mainly used for interior decoration and the top and side plates of LPG tanks.
Marine aluminium plate manufacturer
Signi Aluminum has mastered the most advanced marine aluminum plate and profile production technology, which can provide potential support for the marine and offshore industries. The aluminum plate products produced by Signi Aluminum have high strength, good processing performance and corrosion resistance, which fully meet the requirements of marine applications. Requirements.

Application Status of Marine Aluminum Sheet
Signi Aluminum can provide various aluminum alloy products for marine and offshore engineering, mainly used in yachts, fishing boats, passenger ships, cargo ships, sand boats, ferries, superstructures and lifting platforms of other large ships, drilling platforms, etc.
Application of aluminum alloy in the field of civil ships
Aluminum alloys for civilian ships are generally used in luxury cruise ships, motor boats, transport ships, fishing boats, passenger ships, etc.
Due to the low density of aluminum and aluminum alloys, which is about 1/3 of steel, strong corrosion resistance to seawater, and good processability and weldability, aluminum alloys are widely used to manufacture superstructures of ships. , decks, portholes and railings, etc., and the amount and daily supply increase.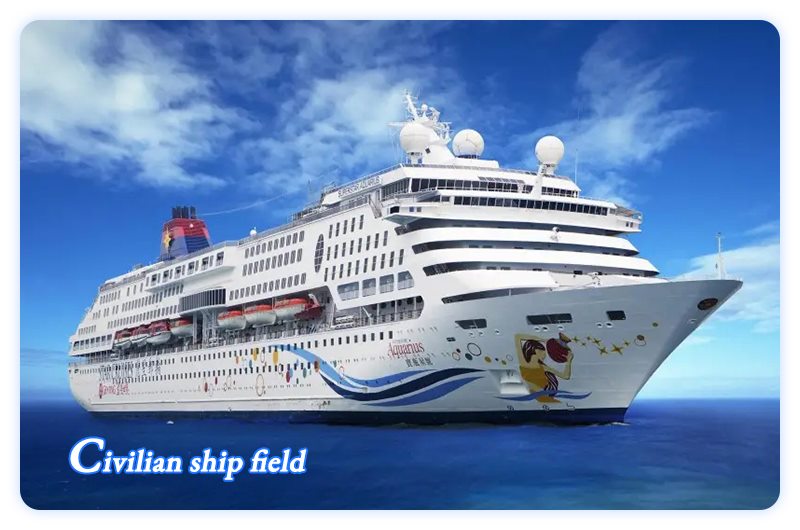 Application of aluminum alloy in the field of engineering ships
Aluminum alloys for engineering ships are generally used in marine survey ships, submersibles (boats), drilling ships, drilling platforms, etc.
Aluminium work boats require less maintenance, last longer, travel faster and have many applications in fishing boats or any other marine industry. Aluminum small boats can be used for decades without suffering any noticeable corrosion. Aluminium workboats are often retired due to technological obsolescence rather than the ageing of aluminium structures.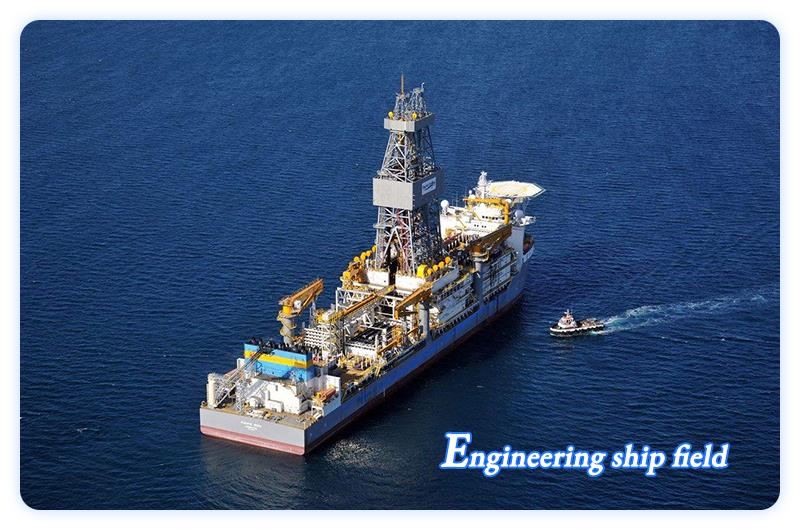 Application of aluminum alloy in the field of military boats
Military boat aluminum alloys are generally used in attack boats, auxiliary military airships, aircraft carriers, destroyers, patrol boats, hydrofoils, hovercraft, etc.
Lightweight ship structures can increase ship speed, reduce operating costs, improve operational sensitivity, extend travel, and reduce maintenance. Based on this, aluminum alloys are widely used in the field of military ships, thereby completing difficult tasks such as assault or search and rescue.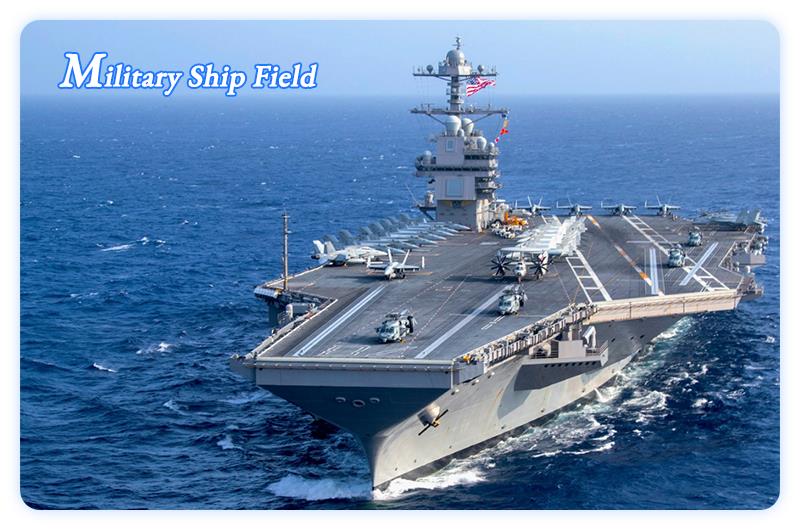 Marine grade aluminium plate packing
Marine Aluminium plate are placed in wooden boxes on wooden skids with runners along the length of the sheet. They are wrapped in HDPE with hardboard on top and bottom of the stack. Hoop iron strapping runs along the length of the sheets. Silica gel packets are put in the boxes for moisture protection.