2024 T351 aluminum plate has high strength and heat resistance, and is used in rivets, truck wheel hubs, propeller components and various other structural parts.
After heat treatment in 2024, the mechanical properties are significantly improved, and its T351 state parameters are as follows: tensile strength 470MPa, 0.2% yield strength 325MPa, elongation: 10%, fatigue strength 105MPa, hardness 120HB;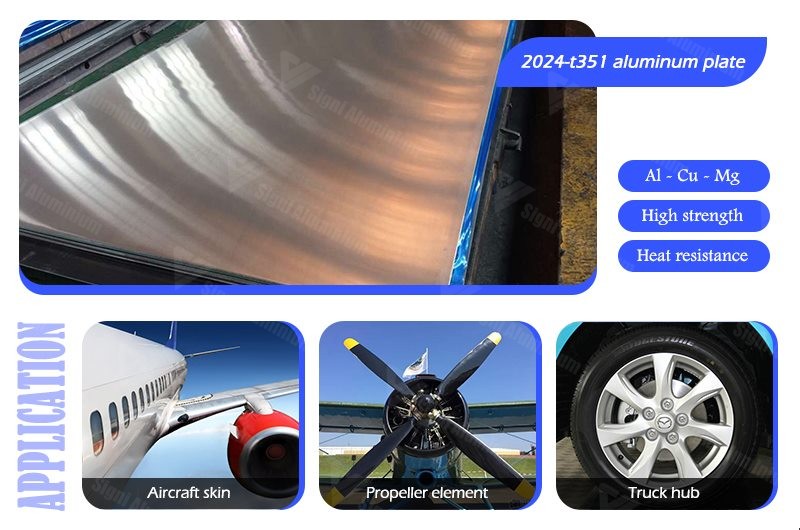 2024 T351 aluminum plate is a typical hard aluminum alloy in the aluminum-copper-magnesium series. Its composition is relatively reasonable, and its comprehensive performance is better than that of the hard aluminum. The characteristics of this alloy are: high strength, certain heat resistance, can be used as working parts below 150 ℃, the temperature is 125 ℃ maximum, the strength of 2024 T351 alloy is higher than that of 7075 alloy. The forming properties in the hot state, annealing and new quenching state are relatively good, and the heat treatment strengthening effect is remarkable, but the heat treatment process requirements are strict. The corrosion resistance is poor, but it can be effectively protected by cladding with pure aluminum; it is easy to produce cracks during welding, but it can be welded or riveted by a special process.
2024 T351 aluminum sheet is widely used in aircraft structures such as skins, skeletons, rib beams, bulkheads, etc., rivets, truck hubs, propeller components and other various structural parts.
Chemical composition of 2024T351 aluminum plate
Silicon 0.5%, Iron: 0.5%, Copper 3.8-4.9, Manganese 0.3-0.9, Magnesium: 1.2-1.8,
Chromium 0.10, Zinc 0.25, Titanium: 0.15, Others 0.15, Aluminum: Others
Mechanical properties of 2024T351 aluminum plate
Tensile strength Mpa470, 0.2% yield strength Mpa325, elongation% 12, fatigue strength: 105, hardness HB120, electrical conductivity 20 ℃ 30, 20 ℃ resistivity nΩ.m48, elastic modulus 68