5083-H131 aluminum plate and AZ31B-H24 magnesium alloy have the same ductility, but the ultimate tensile strength (UTS) and tensile yield strength (TYS) of 5083 H131 are 69~83 MPa and 103~131 MPa higher than AZ31B-H24, respectively , so it is an armor alloy material with potential advantages.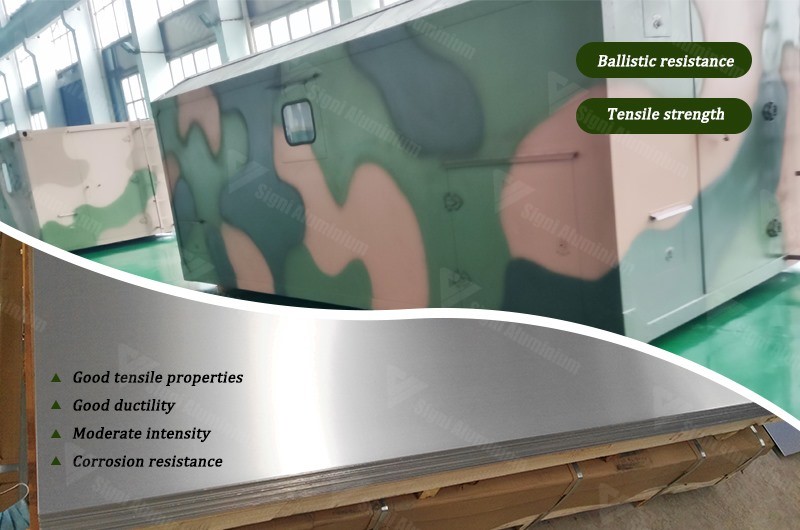 The most important thing for armor alloy materials is the elastic resistance. The tensile strength plays an important role in the elastic resistance. The 5083 aluminum alloy has the advantages of good tensile performance and ductility, suitable strength, good elongation and corrosion resistance. and is widely used. The 5 series aluminum plate is the aluminum-magnesium alloy aluminum plate, which is the most comprehensive aluminum plate series in the current 8 aluminum plate series.
5083-h131 aluminium armor plate advantage
On the basis of the same plate thickness, the V50 of AZ31 B-H24 magnesium alloy is about 300 m/s (armor-piercing projectile) and 1 000 m/s (FSP) lower than that of 5083 H131.
Under the same quality, the rolled AZ31B-H24 magnesium alloy plate can replace the 5083 H13 aluminum plate to resist armor-piercing projectiles. However, the magnesium alloy plate is 50% thicker than the aluminum alloy plate.
Signi offers a wide range of bulletproof aluminium sheet materials. Portfolio includes high strength, heat treatable 2xxx and 7xxx series alloys as well as 5xxx series alloys, such as high strength alloys with low density, excellent weldability and corrosion resistance, and the best performance in ballistic protection Models: 5059, 5083
Specifications
Alloys (AA)
Temper
Thickness range (mm)
Length range (mm)
Width range (mm)
5059,5083, 7039, 7020,7017,2519    
5059:H131,H136, 5083:H131 7020,7017:T6 2519:T87
6 —  250
1000 — 10000
500 — 2700