At present, the process flow of 5005 H34 aluminum plate is: melting and casting - sawing - ingot heating - hot rolling - cold rolling - Intermediate Annealing - cold rolling of finished products - stable annealing of finished products - finishing - packaging. The process is lengthy and the processing cost is high. In view of the existing situation, our company provides a production method of 5005 H34 aluminum plate. The production method can ensure the performance of products and shorten the production process. After hot rolling, one pass cold rolling combined with aluminum coil cleaning, 5005h34 plate products with finished product thickness of 2.0 ~ 3.0mm are directly produced by baking at low temperature 130 ± 10 ℃, saving cost.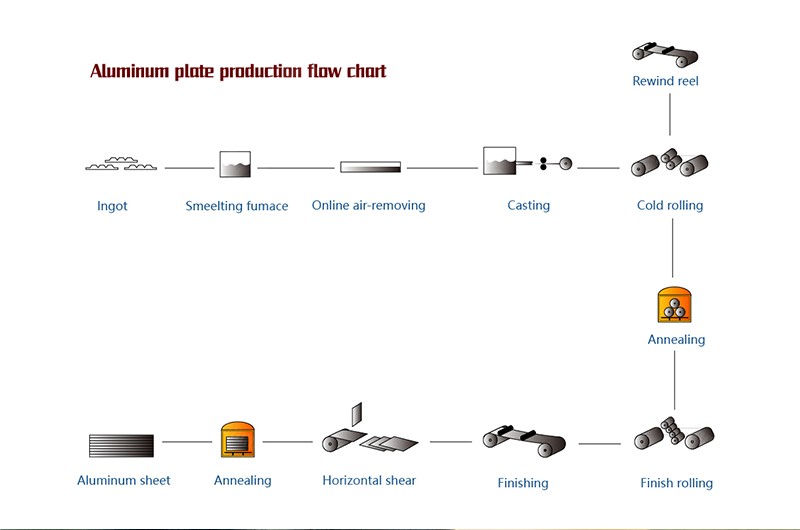 Production flow chart of 5005 H34 aluminum plate
5005 aluminum alloy is widely used in Al ~ Mg alloys, and H34 refers to the heat treatment state. 5005 H34 aluminum plate has moderate strength, good corrosion resistance, weldability, easy processing and forming, and its anodic oxide film is bright and beautiful.
5005 H34 aluminum plate is widely used in refrigerator lining plate, household equipment, marine aluminum plate, special aluminum plate for ships and aluminum oxide plate. It has the characteristics of rust prevention and corrosion resistance.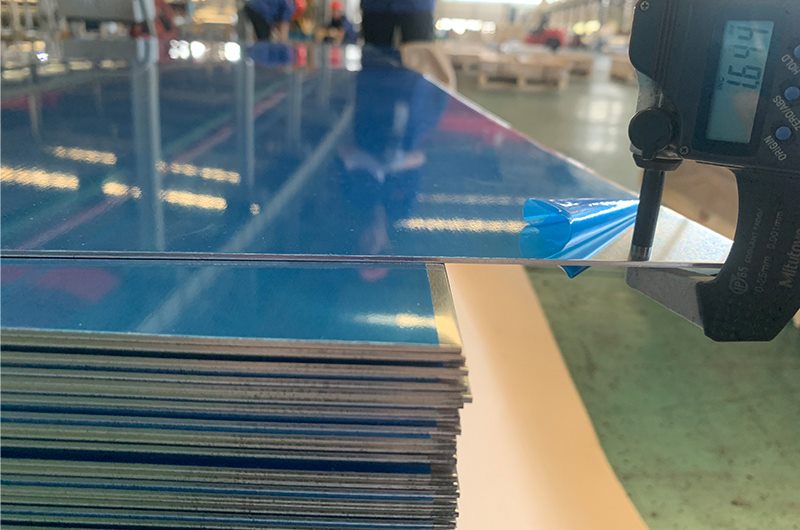 5005 h34 aluminum plate manufacturer
5005 aluminum plate has complete specifications, reliable quality and preferential price. It can be produced and customized according to customer requirements It supplies all kinds of aluminum materials such as 5005-h34 aluminum plate all year round. It has large inventory and complete models, which can be cut zero. It focuses on the one-stop procurement of 5005-h34 aluminum plate and aluminum industry. New and old customers are welcome to make an appointment and place an order!
5005-h34 vs 5052-h32
Alloy
Tensile property
Brinell hardness
σb/Mpa
σ0.2/Mpa
δ/%
5005-h32 aluminum plate  
140
115
11
36
5005-h34 aluminum plate
160
140
8
41
Price of 5005 h34 aluminum sheet
The price of 5005 aluminum sheet is composed of aluminum ingot price and processing fee, which is closely related to product status, thickness, width, length and other factors. In the international market, under the influence of the situation in Russia and Ukraine, Russia, as the largest primary aluminum producer overseas, will be affected to a certain extent; Rusal also closed its alumina refinery in Ukraine due to transportation, logistics and other problems, and this refinery bears an annual production capacity of 1.7 million tons, which will also significantly reduce Rusal's output.
From the current overall situation, China's aluminum ingot Market may recover. Although all aluminum prices have increased on March 2, with the gradual recovery of the market, it does not rule out the easing of price rise and fall. However, for the international market, the situation in Russia and Ukraine cannot be restored in the short term.