5052 h34 aluminum plate
5052 h34 aluminum plate has good corrosion resistance, excellent weldability, good cold workability, and medium strength. It has good plasticity during semi-cold work hardening and low plasticity during cold work hardening. It has poor machinability and can be polished. It can be used for low-load parts that require high plasticity and good weldability and work in liquid or gaseous media. In addition, 5052 aluminum plate has good forming performance and corrosion resistance.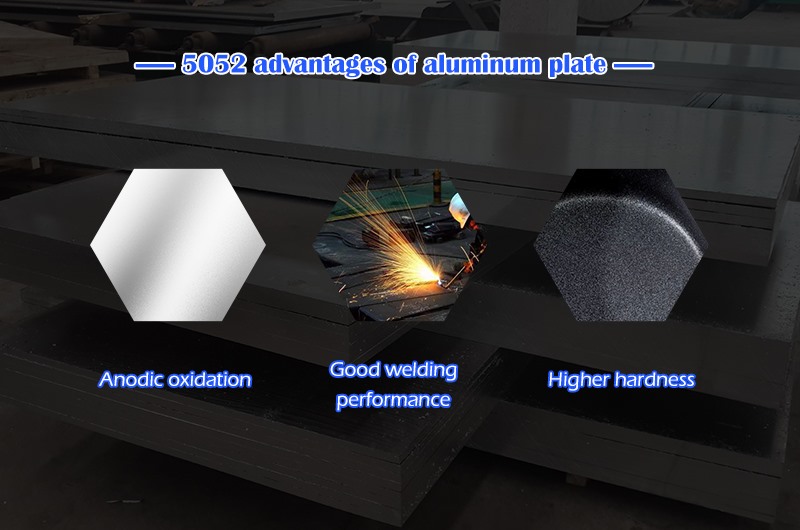 5052 h34 aluminum plate specification
| alloy | thickness(mm) | width(mm) | length(mm) |
| --- | --- | --- | --- |
| 5052-h34 aluminum plate | 0.15-600 | 20-2600 | 500-16000 |
5052 H34 aluminum plate chemical composition table
| alloy | Si | Fe | Cu | Mn | Mg | Cr | Ni | Zn | V | Ti | Zr | other | Al |
| --- | --- | --- | --- | --- | --- | --- | --- | --- | --- | --- | --- | --- | --- |
| 5052  | 0.25 | 0.40 | 0.10 | 0.10 | 2.2-2.8 | 0.15-0.35 | - | 0.1 | - | - | - | 0.20 | margin |

5052 h34 aluminum plate specification
5052 h34 aluminum product application
5052 h34 aluminum plate has good performance and can be applied to various aspects. For example: automotive roofs, automotive fuel tank materials, automotive parts and other lightweight special aluminum, high-voltage switches, notebook shells, trolley boxes, fuel tank materials, liquid crystal back panels, tank materials, door panels, high-voltage switch housings and other fields.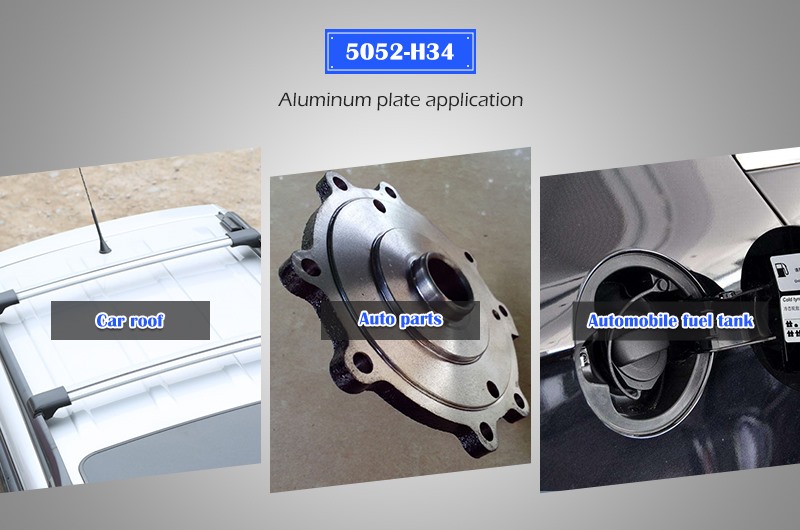 5052 h34 vs h32
1. The tensile strength is different: the tensile strength of 5052 H32 aluminum plate is 210-260; the tensile strength of 5052 H34 aluminum plate is 230-280. Tensile strength is the critical value for the transition of metal from uniform plastic deformation to locally concentrated plastic deformation, and it is also the maximum load-bearing capacity of metal under static tension.
2. The specified non-proportional extension strength is different: the non-proportional extension strength specified by 5052 h32 aluminum is 130; the non-proportional extension strength specified by 5052 h34 aluminum is 150. The defined non-proportional elongation strength Rp is the stress when the non-proportional elongation is equal to the specified percentage of the extensometer gauge length, and Rp0.2 is the stress when the specified extensometer gauge length is 0.2%.
3. The bending radius is different: the bending radius of 5052 H32 aluminum sheet is 1.5t; the bending radius of 5052 H34 aluminum sheet is 2.0t. The bending radius is the radius of curvature. In layman's terms, a very small segment on the curve is replaced by a circular arc. The radius of this circle is the bending radius.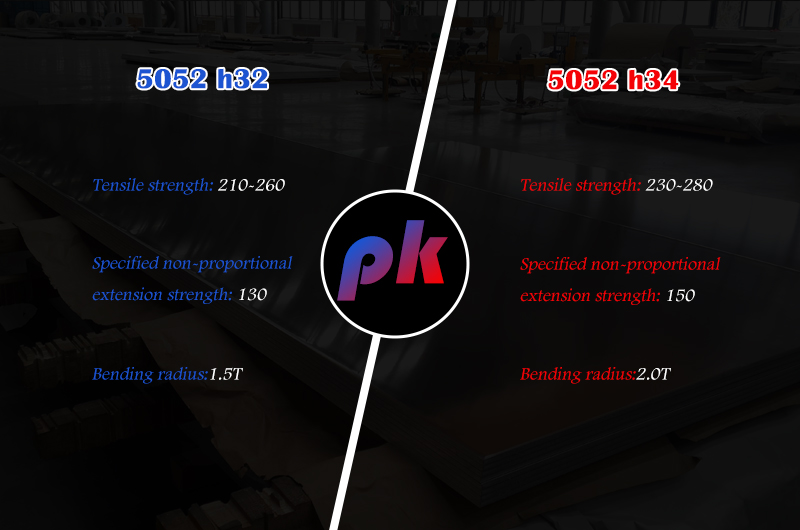 5052 h34 aluminum plate price
The 5052 h34 aluminum plate is a 5 series alloy aluminum plate with a relatively large demand on the market, so the 5052 h34 aluminum plate price is the most concerned by everyone.
There are many factors that affect the price of 5052 h34 aluminum plate, the specific factors are as follows:
1. Aluminum ingot price: As the price of aluminum ingot fluctuates daily, the quotation will be different.
2. Specification quantity: The price of 5052 h34 aluminum plate depends on the alloy specification status and quality. The process requirements are strict and complicated, and the price is naturally more expensive. But the price will naturally be much cheaper if the quantity is large.
3. Product demand: we need to look at the market demand of 5052 aluminum sheet at that time, and the market saturation will also determine the price of 5052 h34 aluminum sheet. 
4.5052 aluminum sheet manufacturers is a direct factor: there are many 5052 h34 aluminum sheet manufacturers, and their scale and strength affect the price of aluminum sheets. In the production process, it is inevitable to spend some investment in manpower, material resources, technology and other aspects. The higher the cost of manufacturers in this regard, the higher the price.
Consumers are advised to purchase products from large-scale, direct-selling, and powerful manufacturers, because these manufacturers have advanced equipment, high technology, more guaranteed quality, and more reasonable prices.
5052 h34 aluminum plate price= aluminum ingot price + processing feeservice@signialuminium.com
where to buy 5052 aluminum
Each of Signi Aluminum's products has been rigorously built and screened, from the initial raw materials to the manufacturing process to the review and investigation.
Your satisfaction is our goal, with excellent materials and complete specifications, large quantities and excellent prices.
01. The stock specifications are complete: a professional aluminum plate manufacturer, focusing on aluminum alloy plates for many years.
02. The technical team controls the quality: adopts excellent testing equipment to strictly test the products to ensure product standards.
03. One-to-one pre-sales and after-sales service: years of industry experience, full one-to-one service, worry-free after-sales
04. Logistics delivery and timely delivery: delivery can be done in any area, which greatly improves the timeliness of customers.
05. Price concessions are affordable: large quantities and small quantities can be shipped without worry and effort.
5052 aluminum suppliers
Signi Aluminum is a professional 5052 aluminum suppliers. It has its own production equipment, rich processing experience, accepts various orders, complete specifications, and can produce 5052 aluminum plate with a thickness of 0.15-600mm and a maximum width of 2650mm. Signi Aluminum has many years of production experience, mature and advanced processing technology, and stable product performance.
In addition, 5052 aluminum plate sold by 5052 aluminum plate suppliers include 5052 medium-thick aluminum plates, 5052 pattern aluminum plates, 5052 ultra-wide aluminum plates, 5052 aluminum alloy sheets, 5052 marine aluminum plates, and so on. Support customization, provide real-time quotation, welcome to consult.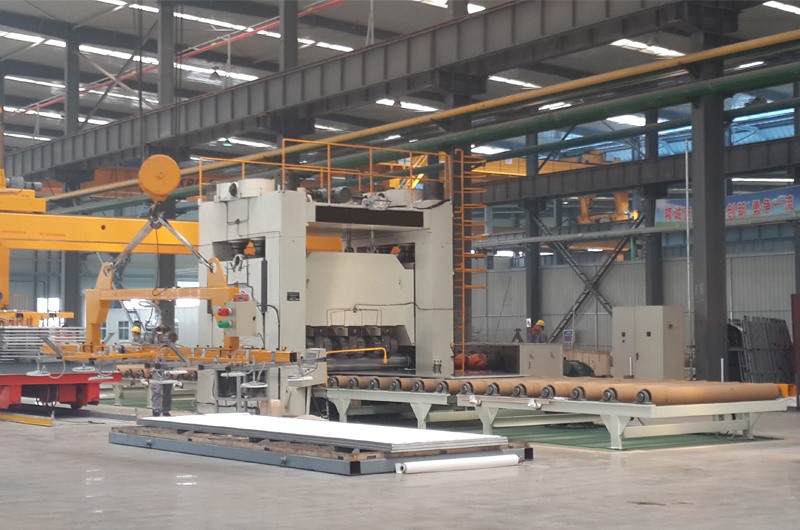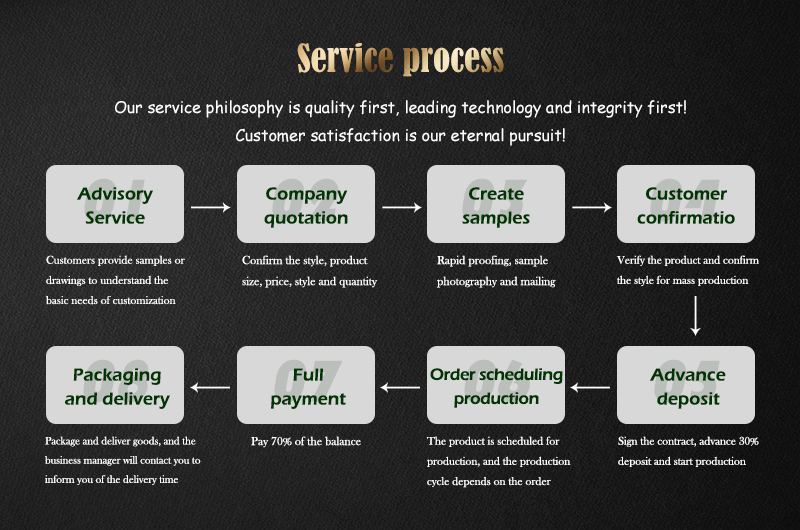 aluminum material supplier service process