The falw of Powder Spraying and Solutions
Flaw name : Color Shading
Cause of Emergence :
1. Coating thickness is not uniform;
2. The distribution of Curing Oven's temperature is not uniform;
3. The workpiece with different material、thickness、form and size can be production at the same time;
4. If the recycling sweep for Powder device、Spray gun、Spray powder room and Powder coating are not clean, when change the varieties of coating color;
5. The nonuniform of Powder Coating Color's distribution cause the color-shade;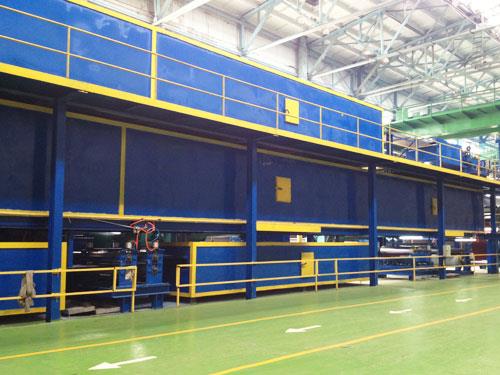 Solutions :
1. Ensure the uniform of coating thickness;
2. The distribution of Curing Oven's temperature is uniform;
3. Should be classified by the material、thickness、form and size of workpiece, then proceeding baking-curing production according to the different baking times which had seted, in order to reduce the color-shade of coating;
4. When change the Powder, sweep up all parts, try to stagger the powder of large difference of color;
5. Improve the quality of powder, ensure the tiny difference of powder's L、a、b and Plus or minus a unified;
Flaw name : loss of gloss、yellow discolouration
Cause of produce :
1. The powder coating paint itself is not high temperature resistant high temperature easy to become yellow or resin and raw materials;
2. The poor quality of workpiece processing before, there are residues;
3. The curing time is too long or curing temperature is too high, local temperature too high or being too close to heating tube;
4. The powder mixed with two kinds of different color or properties.
Solutions :
1. Choose high quality powder coating;
2. Clean after pretreatment, painting brush clearance sundry;
3. Choose suitable curing temperature and time, increase curing furnace hot air circulation, to ensure that the workpiece with the heat source suitable distance;
4. To clean up in powder for powder barrels, powder recovery system, pipe, spray gun, spray chamber device, etc.