Promote aluminum mould plate applications
  Building mould plates is an important tool in construction engineering concrete structure.In developed countries, because of its technical innovation of architectural mould plate the demand is higher, the mould plate used is of good quality, durability, good material, application of industrial production line, complete sets of mould machining accuracy high;The mould plate and its supporting system is to use electronic;mould plate installation is a specialized construction by professional construction team, or by the mould plate manufacturers design and manufacture and installation;A standardized system, and detailed products, design and construction technology standard, easy to implement modular.So, like Europe and the United States the mould plate of the developed countries can not only ensure the quality of the concrete engineering, and construction speed, high mould plate turns, reducing material consumption and has a good comprehensive technical economic benefits.
  Since the reform and opening, our country with developed by foreign imports, promotion and application in succession for many new mould plate and the support of technology, and development of the technology of concrete mould plate.In terms of production technology, the development and application of the composite steel mould plate, mould plate, cast aluminum mould plate, such as plastic form tool type mould plate and fastener type steel tube rack.But due to reasons such as too complex structure design, the new type of assembly tooling the mould plate system, and difficult to popularization, failed to form a more unified and complete assembly to the mould plate system, but also fewer mould plate construction professional team.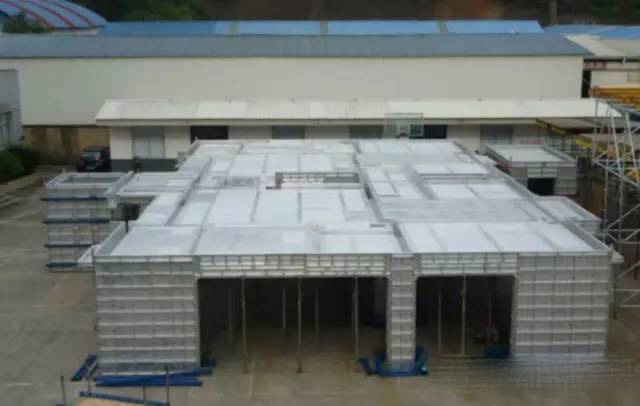 Entering the 21st century, aluminum mould plate applied gradually broke the pattern of development has a mature in some places.Application is more and more inclined to aluminum mould plate in our country, the key is aluminum mould plate technology to fit the current green construction policies in our country.Compared with the traditional mould plate of aluminum mould plate advantage is mainly manifested in the following aspects.
  One is light weight and high stiffness.Experimental test data proved that the aluminum alloy flexural strength for ordinary steel three times.Architectural aluminum mould plate per square meter weight is 24 kg plus or minus 5%, and for an existing building mould plate the lightest metal, construction process without the hoisting and other mechanical equipment.
  The second is of all kinds of complete specifications, high precision.A construction drawings design molding, the structure, construction, little error, high accuracy, very suitable for standard layer of high-level, high-rise buildings, and many buildings with family.
  Three is assembled, spin-off, easy to learn.Overcome the traditional mould plate of packing and unpacking difficulties, do not rely on long-term experience of mould plate technology workers, ordinary staff through a simple training hours, can mount guard independent operation, save the labor cost for the enterprise.
  Four is to recycle more, sharing the cost is low.All parts are reusable aluminum formwork system, under the condition of normal use, the standard construction, usage of up to 300 times more aluminum mould plate loop, the use of average apportion costs relatively low.mould plate of only a few times and wood, steel mould plate turnover may only dozens of times.
  Fifth, wide application range, bearing capacity is strong.The precise design with aluminum formwork system, applicable to all building components, such as load bearing wall, column, beam, floor, stair, balcony, etc., concrete casting can be used to complete, this architecture can have quality assurance and have accurate size tolerance, aluminum mould plate allows the uniformly distributed load and affordable concrete lateral pressure can reach the standard of steel mould plate.Bearing load per square metre 60 kn / ㎡ won't destroy.
  Six is the construction effect are of good quality, free oscillation.Using aluminum mould plate pouring concrete, can reach the technical requirements of veneer and water, flatness and roughness on the surface of the concrete is other type mould plate can not match, can reduce the number of even without batch swings, capped after decorating, can even side built above, the following edge to decorate, so not only save the cost of swings, even more to speed up the construction progress, shorten the construction time limit for a project as a whole.
  Seven is the construction of high efficiency, short construction period.Aluminum alloy mould building mould plate for quick release system, according to different climate condition, general 18 to 36 hours to open mould, so need to configure a layer of aluminum single support can meet the using mould plate plus three layer, can maximize assembling, demolition construction speed, the normal construction layer can be up to 4 days, thus greatly shorten the construction period, to save administrative costs, unit construction at the same time for real estate developers, shorten the development cycle.
  Eight is the recovery rate is high, the salvage value.Aluminum mould plate the recovery rate of up to 400 yuan/square meters, the salvage value is very high, the recycling of all steel mould plate for several times.
  Nine is supporting system is unique, haul, easy to walk.At the bottom of the mould plate support system adopt "single pipe vertical independent" support, and the average spacing of 1.2 meters, need not cross or suspension power support, construction personnel handling material, walking on the site are clear, single support demolition of easy and convenient.
  Ten is safer construction, do not produce construction waste.Aluminum mould plate installation site without nails, nor a chainsaw leftover wood sawdust and other construction, the construction site environment is safe, clean, neat, not like the use of wooden mould plate to produce large amounts of construction waste, can reach the standard of green building construction.
  Need to point out that the popularization and application of aluminum mould plate is unavoidable in the process of problems and difficulties, such as the use of the notion of people and the acceptance of the market main body, a one-time investment is relatively high, unreasonable production of aluminum mould plate points, uneven question and so on.
  To promote at the construction site, therefore, the application of aluminium steel, aluminum generation, will have to be at the top level, strengthen the propaganda, the transformation idea, adapt to the situation development, etc to do in-depth and meticulous work.Because the use of aluminum mould plate will be the construction technology of an innovation, is a big step forward to green construction.