3003 medium thickness aluminum plate is suitable for the bottom of the car, which can reduce the weight of the car body. The use of 3003 aluminum plate changes according to the thickness of the aluminum plate.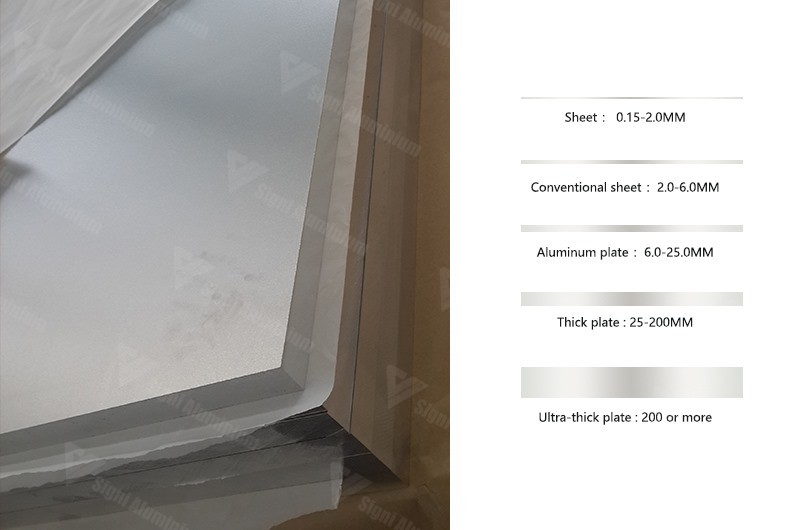 3003 aluminum plate is divided into: (unit mm)
Sheet (aluminum sheet) 0.15-2.0
Conventional sheet (aluminum sheet) 2.0-6.0
Aluminum plate 6.0-25.0
Thick plate (aluminum plate) 25-200
Ultra-thick plate 200 or more
3003 medium thickness aluminum plate performance advantages
1. It has excellent anti-rust properties.
2. Excellent forming and processing characteristics, high corrosion resistance, good weldability and electrical conductivity, and the strength is higher than 1100.
3. Smooth surface, good plasticity and corrosion resistance;
4. 3003, as a power battery shell plate, has impact resistance, is not easy to break and leak, and can meet the strength and rigidity requirements of power battery shells
Signi Aluminum can produce 3003 aluminum sheet
National Standard: 3003 GB/T 3190-1996
ISO:AlMn1Cu ISO 209.1-1989
Japanese Standard: A3003 JIS H4000- 1999 JIS H4 100- 1999
Non-standard: 31000 IS 736-2001
Russian Standard: AMu/1400 FOCT4785-1974
EN: EN AW-3003/AIMn1Cu EN 573-3- 1994
German Standard: AlMnCu/3.0517 DIM1725-1-1986
MOQ: Free samples can be sent according to customer needs
Thickness: 0.1-500mm
3003 parameter
Tensile Strength (∑B)
145~195MPA
Conditional yield strength ∑0.2(MPA)
≥ 115
Elongation△5 (%)
≥4
hardness
semi-hard state
ask for price Email: service@signialuminium.com
  3003
O (stretch)
Thick:0.3-6.0MM
H24 (semi-hard)
Thick:0.3-6.0MM
H112 (semi-hard)
Thick:8.0-200MM
When choosing a medium thickness aluminum plate manufacturer to buy aluminum plates, we are most worried about quality and price. Just like aluminum plate, many laymen do not understand the surface and material of medium thickness aluminum plate manufacturers. So what kind of aluminum plate is of better quality? What kind of 3003 medium thickness aluminum plate is of better quality?
1. Inspection of the logo:Usually, the medium and thick aluminum plate manufacturers we see are marked with the standard code and license of the product.
2. Inspection of surface quality:In addition to checking whether the surface of the medium and thick aluminum plate manufacturer is clean or not, we need to see more things. For example, we should see whether there are some cracks or some corrosion in the aluminum plate. These are all things that need careful attention. can only be discovered by observation.
3. Thickness of oxide film:This requires the use of a professional eddy current thickness gauge for testing.
4. The quality of sealing:The formation of sealing holes is formed after anodizing. If these sealing holes are not well treated, it will lead to the phenomenon that the aluminum plate will be corroded in the future. Usually the detection method we carry out is the acid leaching method, that is, after removing the dust on the surface, drop nitric acid onto the surface, after wiping gently, wash off the nitric acid with water, then drop the purple syrup on the surface, wipe it clean after one minute, see See if there are obvious marks on the surface. If there are any, it means that the sealing hole is not well handled.
5. Corrosion resistance:This indicator also affects the life of the aluminum plate. We often use the method of dripping alkali, using sodium hydroxide solution, mainly to see the time when the oxide film is penetrated. It is recommended to perform under strict requirements in the laboratory.
Signi Aluminum produces medium and heavy aluminum sheets. Contact Email: service@signialiumium.com