5005 H32 aluminum plate is a delivery status of 5005 aluminum plate. H3 state: 5005 aluminum plate is processed after work hardening, resulting in stable mechanical properties to meet customer needs. The second digit of H represents its work hardening hardness. The numbers from 1 to 9 represent different degrees of hardening. The number 8 represents the hard state and 9 represents the superhard state. The H32 state strength is about one fourth between annealed (o) and fully hard (h38).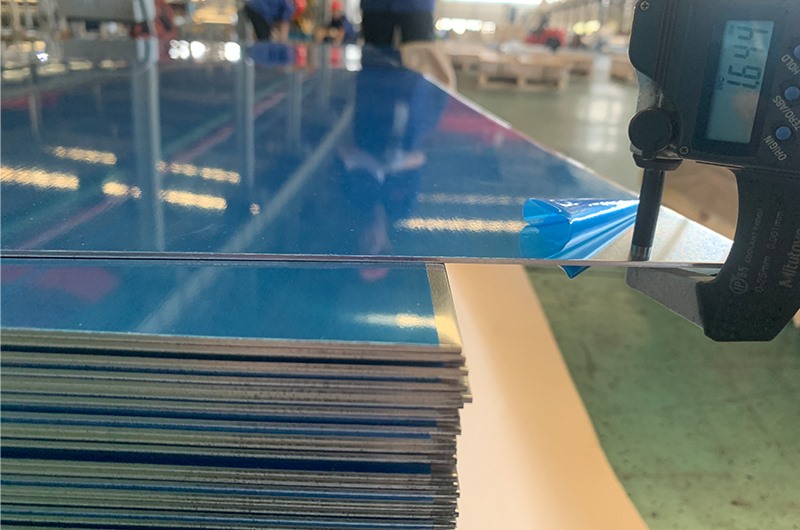 5005 H32 aluminum plate has good corrosion resistance, weldability, excellent processing performance, good oxidation effect and medium strength. It is commonly used as high-end wide curtain wall panel, conductor, cooker, instrument panel, shell and architectural decoration, internal and external decoration materials of building materials, interior decoration materials of vehicles, etc.
1. It has good ductility, low density and high tensile strength;
2. 5005 aluminum plate has excellent corrosion resistance, weldability and processing performance;
3. Medium strength, stable and excellent performance, excellent fusion and high recycling rate.
5005 alloy physical properties
Alloy
Tensile property
Brinell hardness
σb/Mpa
σ0.2/Mpa
δ/%
 
5005-h32
140
115
11
36
5005-h34
160
140
8
41
5005-h36
180
165
6
46
5005-h38
200
185
5
51
Be careful:
Yield strength(σ0.2): it refers to the yield limit of metal materials in case of yield phenomenon, that is, the stress resisting micro plastic deformation. For metal materials without obvious yield, the stress value producing 0.2% residual deformation is specified as its yield limit, which is called conditional yield limit or yield strength. The external force greater than this limit will permanently invalidate the parts and cannot be recovered. For example, the yield limit of low carbon steel is 207mpa. Under the action of external force greater than this limit, the parts will have permanent deformation. If it is less than this, the parts will return to their original appearance.
Tensile strength: it indicates the maximum ability of metal materials to resist damage under tensile force.
σb indicates the actual bearing capacity of ductile metal materials, but this bearing capacity is limited to the loading conditions of unidirectional tension of smooth specimens, and the bearing capacity of ductile materials σ B cannot be used as a design parameter because σ B the corresponding strain is far from what should be achieved in practical use.
5005 alloy composition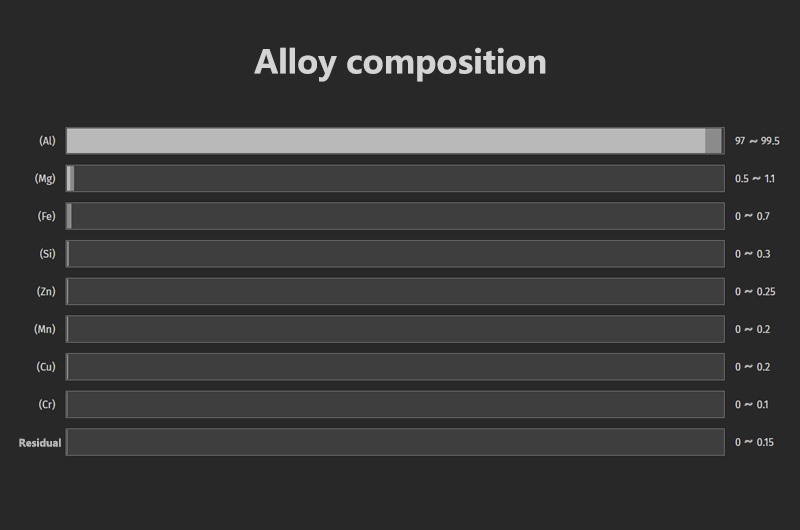 EN AW-5005(EN AW-Al Mg1(B))
How much is 5005 H32 aluminum plate per ton
The price of 5005 H32 aluminum plate usually has no specific quotation in the market, and the price difference is relatively large. The price is related to the specification, thickness and state of the selected products, as well as the selection of manufacturers. Although the price of 5005 aluminum plate is high and low, its overall performance is stable and practical. In addition, the product price is also directly related to the manufacturer's technical level, processing technology, processing technology and material selection. At present, there are many 5005 aluminum plate manufacturers in the market. Choosing a suitable manufacturer will not only ensure the quality, but also give a relatively favorable price. Click online consultation to learn more about 5005 aluminum plate.
5005 aluminum sheet supplier
Signi aluminum 5005 aluminum sheet supports customization, with thickness of 0.1-500mm, width of 20-2650mm, length of 500-16000mm and reasonable price. The company adopts high-quality raw materials, controls the quality from the source, carries out quality inspection at all levels on the production line, strictly controls the production process, and ensures the good performance of the products.